ORDER: Limited Edition Dollabin 7-inch Vinyl (http://dollabin.bandcamp.com)
It's here! The Dollabin crew of DJ Ian Head and Verbal Math has finally pressed our own piece of wax. The A-side is a favorite from our first release ten years ago, "Pragmatic," and the B-side is the exclusive new song "Style Points Coda." As a bonus, we threw on an instrumental of "Pragmatic" as well.
Vinyl is in limited supply so grab a copy now!
Thanks so everyone who continues to support independent music.
The second vinyl release from Everydaybeats is coming very soon…this time from the Dollabin duo, Verbal Math and DJ Ian Head. Ten years after our EP release dedicated to digging up old records, we're pressing our own music up on wax. Side A is a classic from that original release, and Side B are a couple vinyl exclusives. Stay tuned!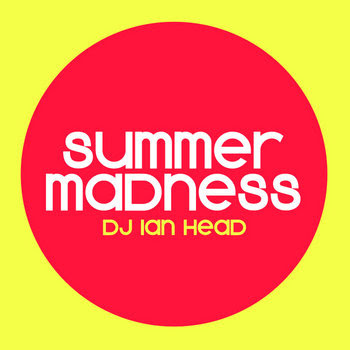 PURCHASE / DOWNLOAD:
DJ Ian Head "Summer Madness" / "Travel Jazz"
Available on 7″ Vinyl and MP3
Limited edition (200 copies pressed) on clear translucent vinyl with original hand-stamped cover.
Friends,
It is with great pleasure that I announce my first musical release on vinyl.
The idea of putting music out on wax has been a long time coming, a dream ever since I first started collecting records. As I went through the process these past few months of paperwork, label designs, fees, test pressings and more, I still continued to doubt that there would actually be an endpoint where I would be holding a record with my name on it in my hand. Even now, it still feels surreal.
The two songs on the record – which are also both available digitally! – are pieces I've worked on over the past couple years, instrumental beats that were somewhat new experiments for me since most of the music isn't sample-based but rather me playing keys and live percussion in addition to drum programming. They've been sitting in the studio in various forms for a while now, and it feels good to release them into the world. Like my mixtapes, I hope you enjoy them but also find things you might not have expected.


This record is a DIY, independent effort that I feel good about getting done in-between my dayjob, grad school and other responsibilities. But I don't think I would have gotten this far without your support over the past 8+ years of my mixtapes and other musical projects. I truly appreciate everyone on this list who has stuck by and supported all my eclectic musical and artistic endeavors. Thank you! Putting out something tangible – especially a vinyl record, including the cover art and the label – is really important to me, especially when so much now revolves around the invisible 1s and 0s of the digital world.
So – please check out the Bandcamp site to order. And if you're in NYC, hit me up and we can link for the hand-off so you don't have to pay that shipping fee.
This is only my first release on vinyl – I'm already plotting the next one.
– Ian
Another new-ish joint from us Dollabin cats – "The Magic." Something kinda goofy we did last year, finally seeing the light of day. Free download.
I've spent the past couple weeks moving all the Dollabin music onto Bandcamp so it's more easily accessible. I'll continue to update and tweak things moving forward.
Here's one slightly "new" release – many of the instrumentals from "Styles You Can't Afford" which we dropped in 2009. Enjoy.
Decided to re-release this EP from last year with additional instrumentals. You can download it minus instrumentals here (http://everydaybeats.net/lentils) or visit my Bandcamp page to cop the bonus instrumental tracks as well. Mmmmm…lentils. Big shout to Gabe and Dume.
So I've re-released my 2008 album "PIECES." Big shout to the Japanese digital label Root70Lounge, which no longer is distributing music as of earlier this year, for showing me love and putting it out four years ago.
This time around I'm releasing it on Bandcamp for free, along with several "bonus cuts" that I had released for a limited time earlier – some remixes, some versions with vocals, and other little treats. Hope everyone enjoys.
Dollabin Promo Mix from 2008 – Verb and I did this leading up to the 2009 release of "Styles You Can't Afford." We're still on a bit of a hiatus right now due to work, family, geography and life but I'll try and put up some old / unreleased cuts on my Soundcloud in the coming weeks.