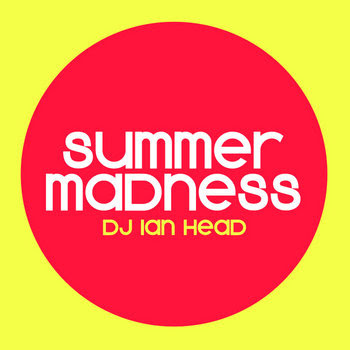 PURCHASE / DOWNLOAD:
DJ Ian Head "Summer Madness" / "Travel Jazz"
Available on 7″ Vinyl and MP3
Limited edition (200 copies pressed) on clear translucent vinyl with original hand-stamped cover.
Friends,
It is with great pleasure that I announce my first musical release on vinyl.
The idea of putting music out on wax has been a long time coming, a dream ever since I first started collecting records. As I went through the process these past few months of paperwork, label designs, fees, test pressings and more, I still continued to doubt that there would actually be an endpoint where I would be holding a record with my name on it in my hand. Even now, it still feels surreal.
The two songs on the record – which are also both available digitally! – are pieces I've worked on over the past couple years, instrumental beats that were somewhat new experiments for me since most of the music isn't sample-based but rather me playing keys and live percussion in addition to drum programming. They've been sitting in the studio in various forms for a while now, and it feels good to release them into the world. Like my mixtapes, I hope you enjoy them but also find things you might not have expected.


This record is a DIY, independent effort that I feel good about getting done in-between my dayjob, grad school and other responsibilities. But I don't think I would have gotten this far without your support over the past 8+ years of my mixtapes and other musical projects. I truly appreciate everyone on this list who has stuck by and supported all my eclectic musical and artistic endeavors. Thank you! Putting out something tangible – especially a vinyl record, including the cover art and the label – is really important to me, especially when so much now revolves around the invisible 1s and 0s of the digital world.
So – please check out the Bandcamp site to order. And if you're in NYC, hit me up and we can link for the hand-off so you don't have to pay that shipping fee.
This is only my first release on vinyl – I'm already plotting the next one.
– Ian