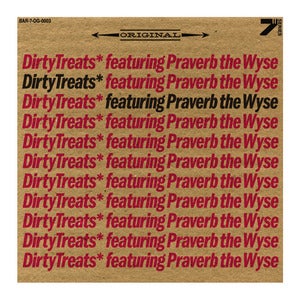 Dirty Treats feat. Praverb The Wyse – 'Original' / 'Everything Is Broken' // 7″ VINYL

My people Dirty Hairy and Ill Treats are dropping some EXCLUSIVE wax, so get your order in! These guys have locked in that jazzy, vintage sound, and are two of the finest doing it. Don't believe me – preview the cuts at Blunted Astronaut Record's Soundcloud: http://soundcloud.com/bluntedastronaut
Order here: http://www.bluntedastronaut.com/product/dirty-treats-feat-praverb-the-wyse-original-everything-is-broken-7
Some words from Dirty Hairy below.
Amongst a crescent of empty pizza boxes, power adapters and various cables snaking around the room filled with piles of records and 90s DMC tapes (yes, VHS), slouched two tired-faced dudes with a passion for smoking, digging records and jamming on just about any instrument, drumbox, keyboard and sample based equipment they could find.
These first 'sessions' were in an attempt to piece together and form an identity of their own rendition of hip hop. More often than not, it was a case of when the sun comes up, roll one last jazz stick, throw some bread in the toaster for the peanut butter and pop in the 1996 world finals DMC tape… – (DJ Noize killed em all)
In the words of the Monkee's (and Biz Markie) "that was then, and this is now"
10 years later, Dirty Treats took their craft a little more serious and along with mundane 9-5s rented together an apartment on the south coast of Brighton and Hove, East Sussex, England.
Nicknamed 'The Jazz Flat' and with girlfriends only in the mix once a month, they turned the apartment into a studio combining equipment, records, and more importantly ideas.
A turntable was also set up in the kitchen for those moments of previewing fresh digs whilst eating.
With a view to making an album of their collaborations with emcees and friends, DT decided on finding distribution for their work and started to produce beats together. Anyone of them, at anytime, coming up with a loop, chop, break, drum sound or other nucleus and then layering sounds and arranging together with the scratches going in last.
'Everything Is Broken' was born from a dark time. Dirty had been living at the apartment for a year before when Treats arrived. When they combined and set up all of their equipment, they realized a lot of repair work was needed to be done to their main tools. Mpc faders and floppy drives broke, screens needed replacing, the custom built 40GB PC computer kept crashing and one monitor speaker had a broken tweeter. Basically, there was a lot to stunt creativity.
However staying productive and without having an option to save any work on the MPC, Hairy sent across just the piano loop and the drums (2 channels of audio) to Virginia's Praverb the Wyse, who saw enough potential in the loop for it to become something. When turning over beats and ideas and sending them anywhere, it's important you have some way of archiving or remembering the track. That day a rough loop of EIB came from the MPC 60 (with a broken floppy drive) to a Fostex multi tracker and then onto a laptop (via a mini disc recorder). Hairy looked around at the half working studio and out of frustration, wondering which piece of equipment should be fixed first, he ended up just naming the file 'Everything Is Broken'…
When Praverb returned the vocals, they realized that he had gone with that title and based his lyrics around it. His verses concentrate on witty observations on the current state of Hip-Hop culture and our ailing society.
Treats contributed some real nice melodies which you hear on this track beyond the loop, in the form of horns and vocal samples, and Hairy finally laced the cuts. Lady of Rage is one of the lines scratched, where she spits on DJ Premier's 'Unfucwitable' track, "I just got dumped and got left broken hearted".
Originally Original.
Not such a cheesy story can be told about Praverb's natural hunger to jump on another DT track. Dirty had been playing around with a jazz guitar loop, which unusually he didn't pitch to his comfort tempo. This forced his MPC 60 drum pattern to be quicker than usual, clocking in around 95.5 BPM. He threw in a sample change for a '2 x 4 bar' chorus in the arrangement.
Eager to scratch something on the chorus and not eager to dig too deep at the same time (but still wanting to send something that day!), he reached for Boot Breaks (a break record / scratch tool) put out by Guildford's (UK) Dr. Zygote, an underrated producer and skilled DJ. There, complete in reggae style voice, was the word 'ORIGINAL'.
Hairy already new what he was going to call the file…
Praverb took a little longer than usual, and DT got into some other beats. When the acapellas eventually made it across the Atlantic, Hairy was already bored of the samples and with Treats pushing for a full make over, he was very enthusiastic pulling in the majority of the sounds, pianos, horns, and vocal snippets. They redid the whole track with a new arrangement, keeping the original drums.
To this day Ill Treats still keeps the vibe alive and lives in the Jazz Flat, and they both are currently working through the DT catalogue to release more of these soulful jams into the world.
Dirty Hairy
April / 2012 / Zagreb, Croatia
Tracklist:
Side A:
'Original'
Produced by Dirty Treats, Lyrics by Praverb The Wyse.
Side B:
'Everything Is Broken'
Produced by Dirty Treats, Lyrics by Praverb The Wyse.
Limited Edition – 300 numbered copies.
MPC60/S950
BAR-7-OG-0003
Printed on thick 18pt brown 100% PCW recycled chipboard using letterpress and offset techniques.
White Vinyl.